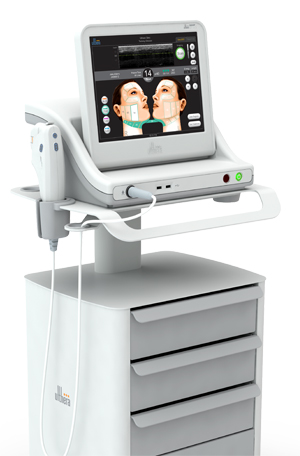 What is HIFU?
High Intensity Ultrasound (HIFU) treatments are a non-invasive skin tightening treatment using the power of deep ultrasonic waves to stimulate collagen and elastin.
HIFU treatments at our Bourke Street clinic will help to lift muscle and skin, with no down time or side-effects. HIFU treatments are excellent for people whose skin has "relaxed" or feeling less firm.
How Do HIFU treatments work?
HIFU uses advanced ultrasound treating the deepest layers of the skin, where it can truly effect change in tissue. The ultrasound device is calibrated to provide even ultrasonic waves at a very specific temperature, to the correct depth of the skin to trigger collagen production.
The heat from the ultrasonic waves stimulates the fibroblasts in the skin which produces more collagen which firms and lifts the skin.
Benefits of HIFU Treatment
You will see immediate tightening results that keeps getting better over time. You will get an instant lift, but the results will increase over the coming two or three months as collagen production increases.
HIFU Treatments can tighten:
Jowls
Cheeks
Brows/upper face
Crows feet
Turkey neck (sagging under chin)
Drooping eyebrows
Crepey skin
Fine Lines
Décolletage
Sagging skin on the belly, arms, knees, legs
Reduce a double chin
Reduce under-eye bags
Features of HIFU
One treatment may last up to 12 months
You are awake during the treatment
Makeup can generally be worn immediately
No downtime
Results will occur over the next three months with gradual tightening
Natural looking results
Non invasive clinic based treatments
No injections
We can sculpt your face and neck effectively with targeted HIFU treatments, stimulating collagen and rejuvenating your skin for a more youthful appearance. HIFU treatments can be part of your regular anti-aging routine.